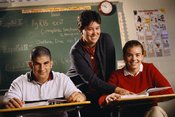 Breeding Success in Our Children
The Division of Teaching and Learning serves the needs of the teachers and administrators of the Emerald City School District by providing the services and support to enable schools to provide the best educational program possible for all children.
The primary function of the Division of Curriculum and Instruction is providing timely, effective support for teachers. To this end, content area specialists in all areas Pre-K through 12th grade are assigned to assist teachers and administrators throughout the District to provide support, resources, and professional development. Visit our site often as we update information often.
---
Helpful Document about Bullying for our Schools