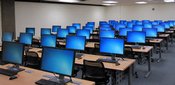 Computer labs
Having the proper training facility is just as important as the training itself. The district offers three state-of-the-art computer labs to handle your training and presentation needs.
The professional development area includes three U-shaped computer labs for technology presentations and trainings of up to 30 people per lab. Each 30-station computer lab offers the following:
State-of-the-art equipment - two Lexmark printers, HP 3420 All in ones, trainer station with HP 6200 Pro, Promethean 378 ActivBoard and Epson Powerlite 95 projector.
Computer Lab A has 22 stations
Computer Lab B has 28 stations
Computer Lab C has 35 stations
Please create a calendar event to reserve your appropriate computer lab time here.