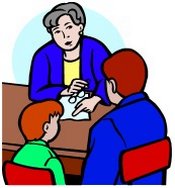 Parent Teacher Conference
Parent Teacher Conferences Set for February 2-3
Parent Teacher Conferences are set for Wednesday, February 2 and Thursday, February 3. All parents are encouraged to attend. We had a very low turnout for the fall conferences and believe these meetings are crucial for not only your students but for our teachers as well.
Studies show that those students who have parents that attend, will do better in class and receive better grades on average. If you are not able to attend, your teacher will be happy to set up a time on another day that would work best for you.
Please sign up for a time to visit with each of your child's teachers by clicking the registration link below.
We hope to see you in February!
Sincerely,
Principal Skinner and Springfield School District Faculty